Sneak peak of NubileFilms™ 'That Good Feeling' featuring
Tracy
.
Become a member for access to the full film and related photo set.
Beautiful blonde Tracy is a total princess that will stop at nothing to achieve the ultimate pleasure for her slender toned body. She's perfectly proportioned and very passionate, which makes her an excellent lover. This slender cutie is vocal about getting exactly what she wants in all aspects of her life, especially once the cameras start recording!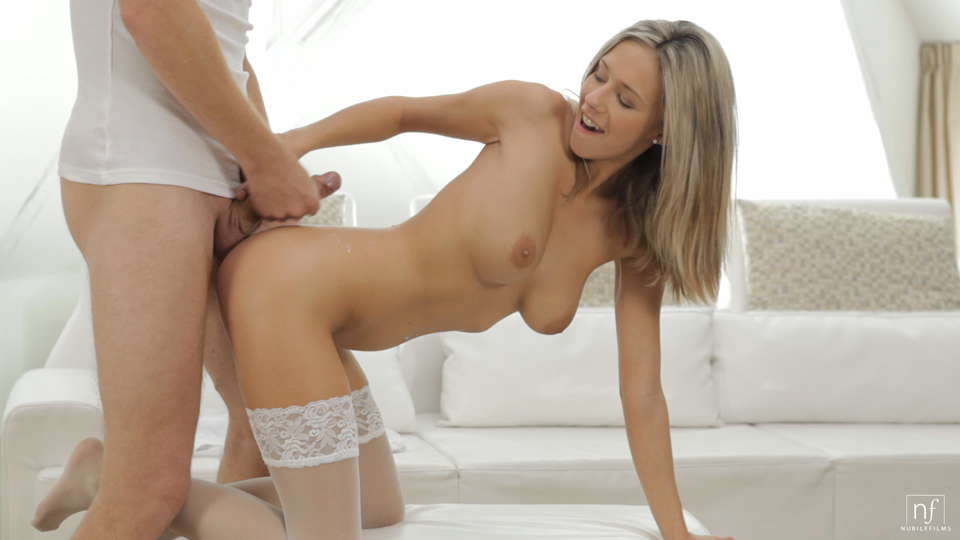 This is a low resolution sample video of a full length film available in the members area of Nubile Films. Full length movies are 10-30 minutes and up to full 1080P quality.
This is a free film preview. Watch the full film Sexy sheer lingerie highlights blonde Tracy's stunning body as she seduces her man Tim. The couple takes their time making out until Tracy finds herself seated astride her man's lap with her tits cupped in his hands. Peeling Tracy's panties off, Tim gets down on his knees to slide his tongue down his woman's delectable bald slit. After his first taste, Tracy's man settles in for a long pussy licking and fingering that only concludes when she is creamy and wet. Up on her hands and knees, Tracy can't help thrusting her hips beneath her man's ministrations so that her heavy breasts shake and sway. Pulling out her beau's dick, Tracy returns the favor of oral sex. She uses her hands and her warm wet mouth, bobbing her head with a rhythm that soon gets her guy hard as a rock. Unable to stay apart any longer, the lovers come together. Holding one leg high in the air, Tracy takes her man deep into her tight twat as they engage in long slow strokes that heighten the pleasure for both of them. Next the lovers shift to the cowgirl position so that Tracy can control the flow of their lovemaking. She slides down until she is completely impaled on her man's cock and then rides him with a rhythm that gets her gasping and moaning the longer she goes. Leaning forward while her hips pump, Tracy finds the exact perfect angle that helps her achieve a big climax that shivers through her whole body. Without wasting any time, Tracy returns to her hands and knees so that Tim can take her delectable pussy doggy style. The hard thrusts bring her to a second swift orgasm, so that her throbbing pussy squeezes and milks Tim's dick until he can't control himself any longer. Pulling out, Tim releases his load all over Tracy's tanned toned ass and then presents his cock so that she can lick it clean in a culmination of her lovemaking.
Young Barely Legal Jail Bait Porn Teen Just Legal Teenager Teenage Pussy Cunt Messy Ass Asshole Ass Hole Anus Anal Butt Behind Tiny Little Petite Small Short Cute Feet Small Breast Tiny Breast Little Breast Baby Breast Small Tits Tiny Tits Little Tits Baby Tits Small Boobs Tiny Boobs Little Boobs Baby Boobs Camel Toe Dildo Solo Masturbate Masturbation Cum Chat Tight Ass Tight Pussy Tight Twat Wet Pussy Live Shows Wet Cunt Wet Tits Teenaged Tasty Slippery Shaved Twat Shaved Pussy Shaved Cunt Pink Cunt Peite Nude Naked Masturbating Little Tittys Finger Fuck Girl Young Legal Porn Teenagers Shaved Sappic Erotica Masturbator Lesbos Lesbian Leabians Girls Kissing Cute Cameltoe Barely Legal Jailbait Legal Lesbian Small Amateur Teen Puffy Tight Pussy Tinytits Young Petite Ass Hot Erotic Cuteface 18 Schoolgirl Beauty Beautiful Eyes Teen Gorgeous Hotbody Small Flatchest Perfect Sweet Young Little Teen Barely legal Skinny Fuck toy Cutie Beauty Sexy Tight Flat stomach Pretty Petite Little Tiny titties Tiny tits Small tits Young teen Small Sexy Gorgeous Adorable Cute Perfect Hot Erotic Sweet Young Lesbians Lesbian Shaved Lingerie Smile #Young #Barely Legal #Jail Bait #Porn #Teen #Just Legal #Teenager #Teenage #Pussy #Cunt #Messy #Ass #Asshole #Ass Hole #Anus #Anal #Butt #Behind #Tiny #Little #Petite #Small #Short #Cute Feet #Small Breast #Tiny Breast #Little Breast #Small Tits #Tiny Tits #Little Tits #Small Boobs #Tiny Boobs #Little Boobs #Camel Toe #Dildo #Solo #Masturbate #Masturbation #Cum #Tight Ass #Tight Pussy #Tight #Twat Wet Pussy #Wet Cunt #Wet Tits #Teenaged #Tasty #Slippery #Shaved #Twat #Shaved Pussy #Shaved Cunt #Pink Cunt #Peite #Nude #Naked Masturbating Little Tittys Finger Fuck Girl Young Legal Porn Teenagers Shaved Sappic Erotica Masturbator Lesbos Lesbian #Leabians #Girls Kissing #Cute Cameltoe #Barely Legal #Jailbait #Legal #Lesbian #Small #Amateur #Teen #Puffy #Tight Pussy #Tinytits #Young #Petite Ass #Hot #Erotic #Cuteface #18 #Schoolgirl #Beauty #Beautiful Eyes #Teen #Gorgeous #Hotbody #Small #Flatchest #Perfect #Sweet #Young #Little #Barely #legal #Skinny #Fuck toy #Cutie #Beauty #Sexy #Tight #Flat stomach #Pretty #Petite #Little #Tiny titties #Tiny tits #Small tits #Young teen #Small Sexy #Gorgeous #Adorable #Cute #Perfect #Hot #Erotic #Sweet #Young